可单轴使用的高精度、低振动Z轴导柱。
High precision・low vibration Z-axis guide which can be applied in single unit.

回转臂
通过提高刚性,实现了高 速化、缩短了生产节拍。
Turning Arm
High speeding and reduced cycle time by increasing rigidity.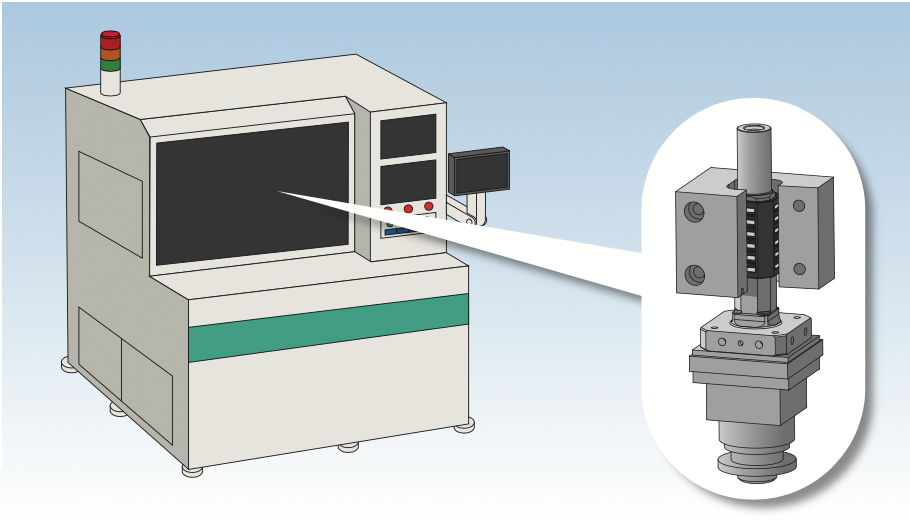 键合机
同时实现了高刚性和微小滚动阻力,抗偏载能力强,可精确地进行加压控制。
Bonder
Both high rigidity and infinitesimal rolling resistance can bear offset load and secure accurate pressure control.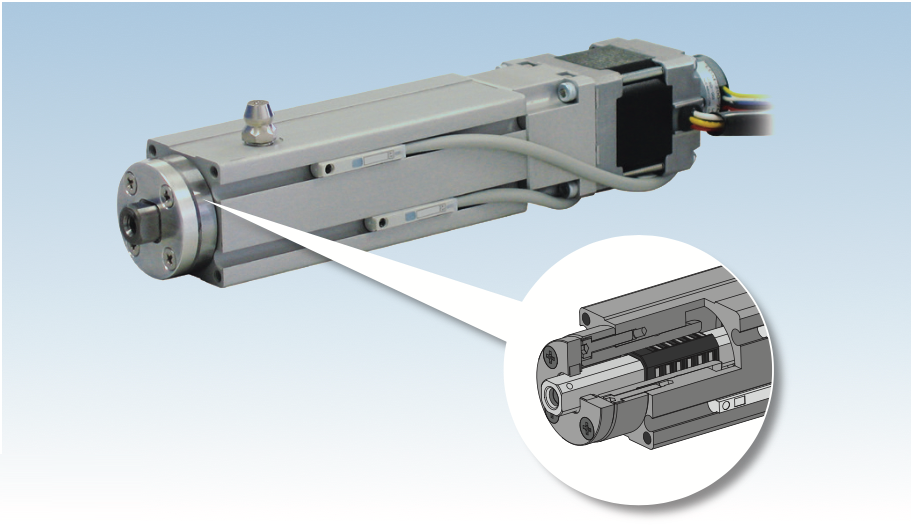 电动缸
采用低振动导柱,可实现亚微米级的微小进给。在另外的"滚针导柱电 动缸产品目录"中,也作为组件销售。
Electric Actuator
Enables minute feeding of sub-micron order with its low vibration guide. On sale as a unit on the separate catalog "Million Actuator"
适用于升降台的法兰型Z轴导柱
Flange type Z-axis guide: the most suitable for elevating stage

检查装置
高刚性、低振动,可快速稳 定相机,缩短生产节拍。
Inspection Device
High rigidity and low vibration make the camera statically determinate quicker, and lead to shorter cycle time.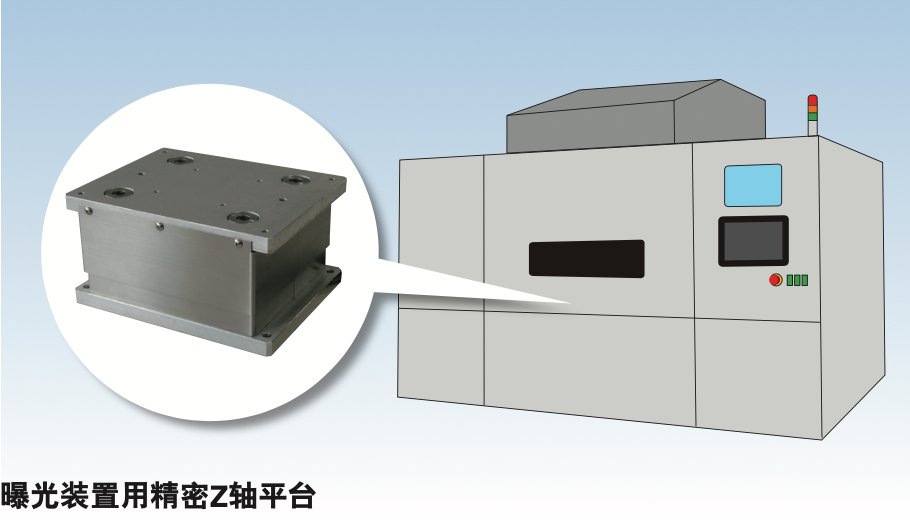 曝光装置用精密Z轴平台
通过提高精度,实现了亚微米级的定位。
Precision Z stage for the exposure equipment
Accuracy improvement enables sub-micron order positioning.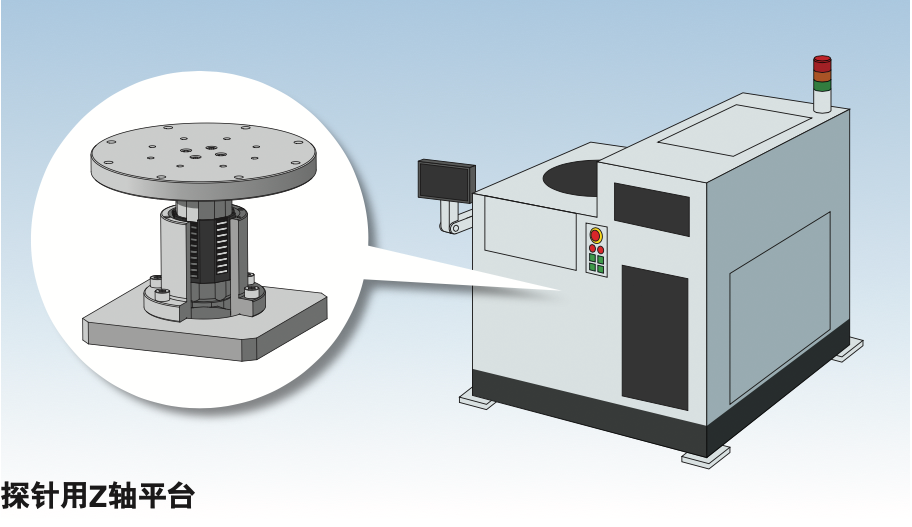 探针用Z轴平台
通过提高导柱刚性,平台上作用有偏载时可减小弯曲。
Z stage for the prober
Higher guide rigidity reduces the deflection caused by the offset load on the stage.
无滚针套的长行程导柱
Retainerless llong stroke guide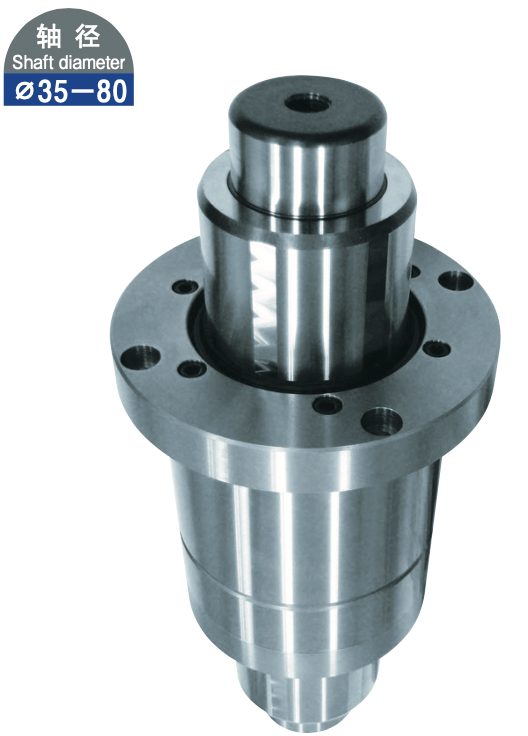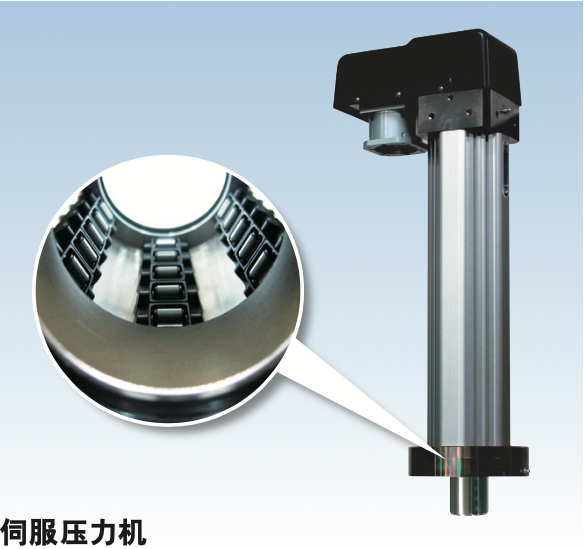 伺服压力机
通过在空心轴上组装滚珠丝杠,实现了良好的 平衡性。在另外的"滚针导柱压力机产品目录" 中,也作为组件销售。
Servo press
Well balanced for a ball screw assembled in a hollow shaft. On sale as a unit on the separate catalog "Million Press"
电子元件钻孔装置头部导柱
通过增加刚性,提高了位置重复精度。可高速运转,缩短了生产节拍。
The head guide of drilling device for the electronic parts
Increased rigidity improves repeatability, and leads to high speeding and reduced cycle time.
超长行程圆轴导柱
Ultra long stroke, cylindrical shaft guide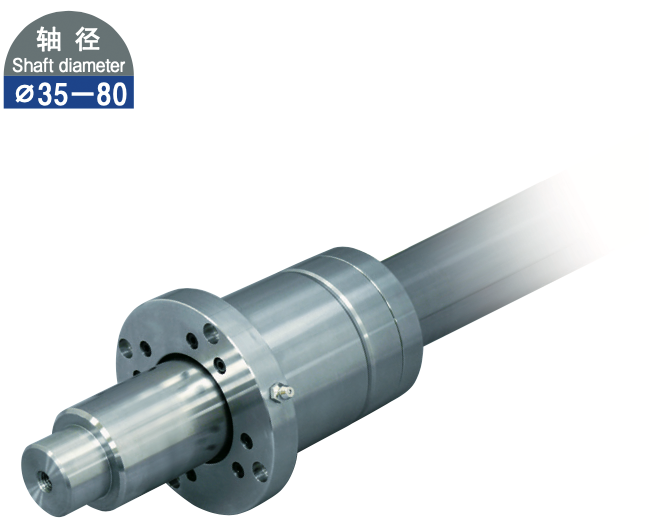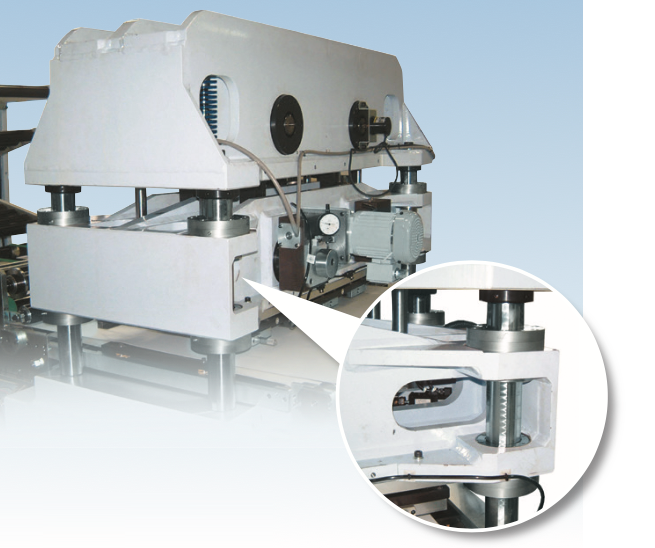 压力机支柱用导柱
通过增加刚性,提高了压力机下死点精度。
Column guide for press machine
Increased rigidity improves the bottom dead center accuracy of press machine.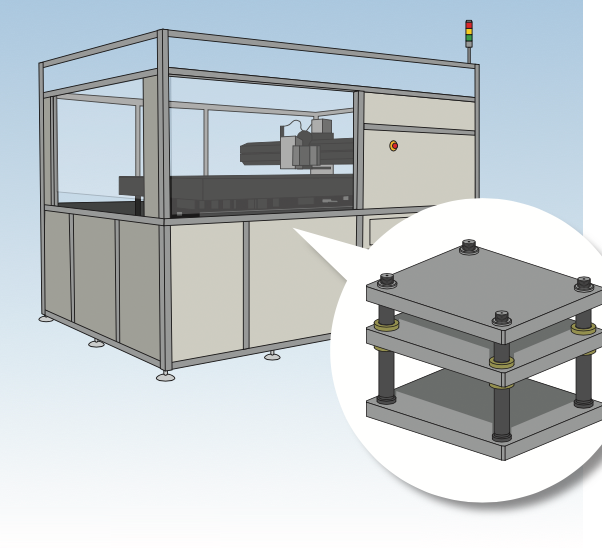 FPD制造装置用大型Z轴平台
长行程,适用于大型平台。通过提高定位精度,降低了不良率。
Large Z-axis stage for FPD manufacturing equipment
It is the best for the large stage of long stroke. Improved positioning accuracy reduces product defect rate.
立柱架 Column sets
可采用GBT系列的立柱架新上市
Column sets newly released, corresponding to GBT series.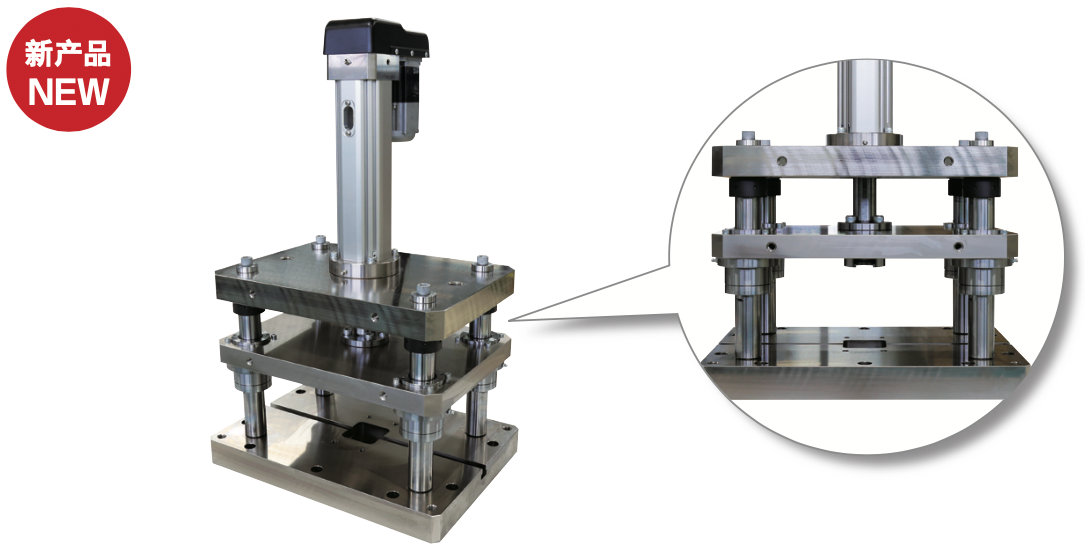 伺服压力机 Servo press
+
立柱用途 Column application
实现亚微米级精度的高精度、高刚性主导柱
High precision, high rigidity main guide supporting sub-micron accuracy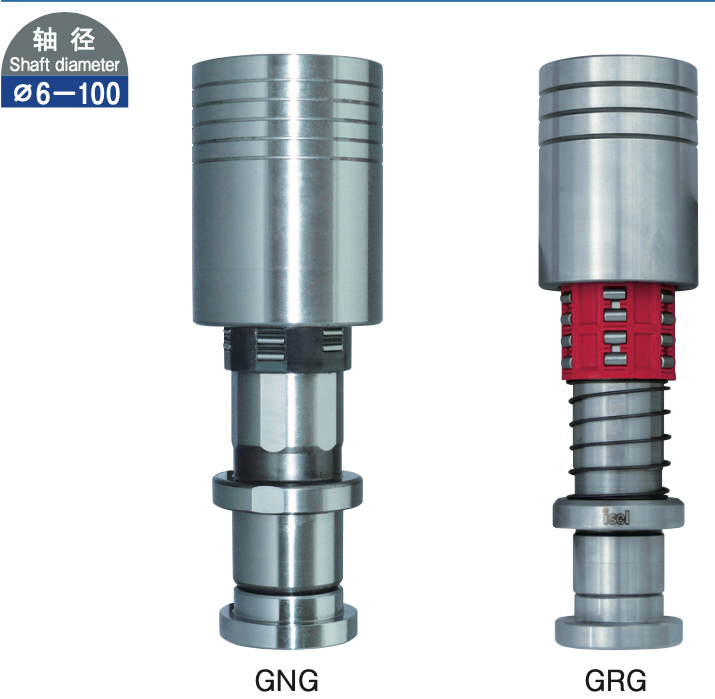 卡片冲孔模具
产品无毛刺,提高了质量。重新配置时再现性优异,缩短了设置时间。
Die set for card punching
Improved quality without burr on the product. Better repeatability of die-set assembly reduces setup time.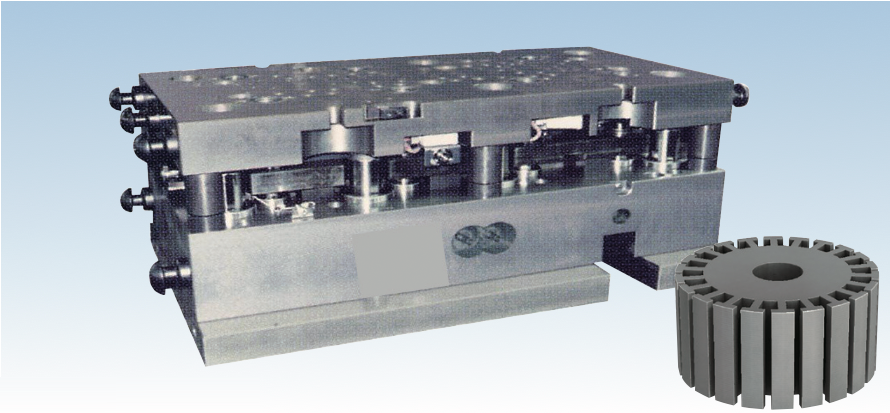 电机铁芯冲压模具
通过提高刚性和精度,上下模的间隙在整个圆周上可保持均匀,从而提高产品精度。另外,减少了上下模的崩角现象,延长了模具的再磨削周期。
Die set for motor core punching
Increased rigidity and accuracy keeps the punch and die clearance even in all directions, leading to product accuracy improvement. Furthermore, decreased punch and die chipping and prolonged die-set regrinding cycle.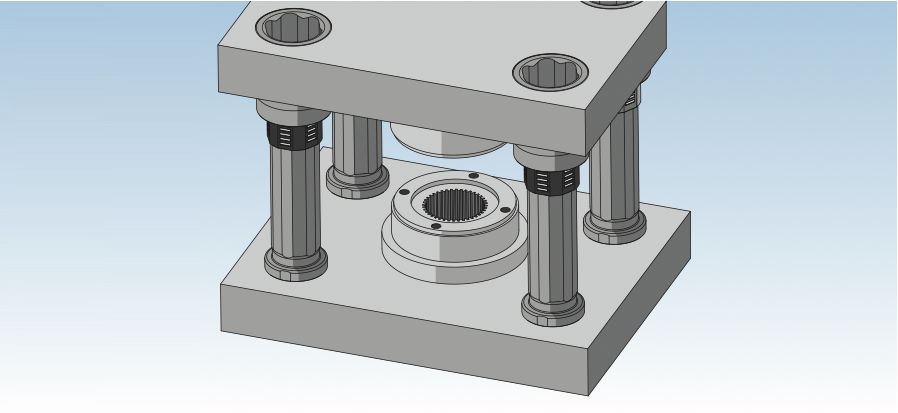 精密冷锻模具
大直径高刚性导柱,适用于大型模架。可实现高精度精密冷锻。
Precision cold forging die set
High rigidity guide of large diameter is ideal for large die set, leading to high precision cold forging.
适用于高速冲压的高刚性脱料板用导柱
High rigidity stripper guide, the best for high speed press.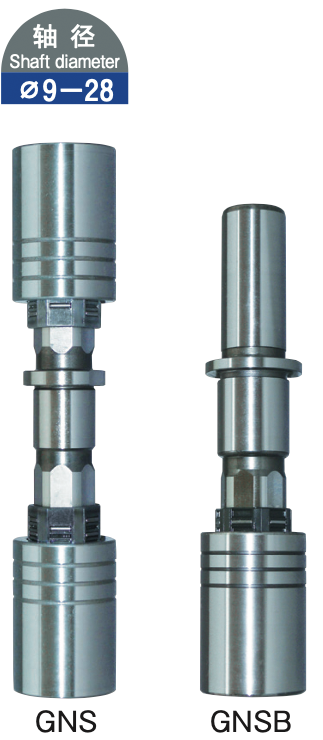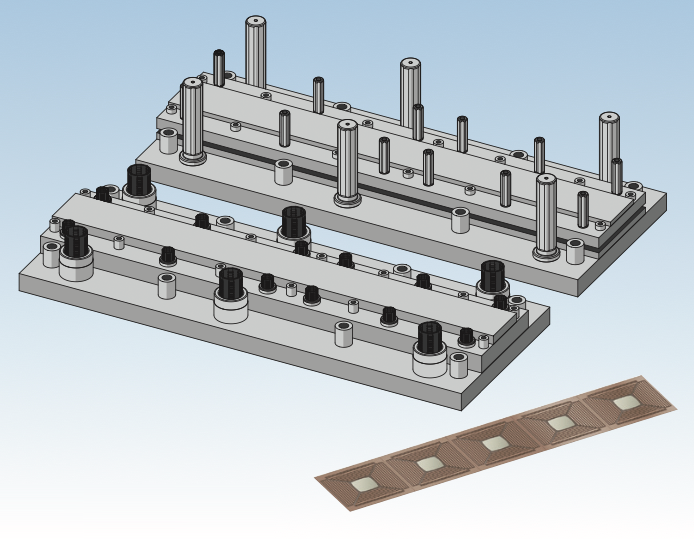 引线框架连续模具
也可进行超细微冲压。降低不良率和离散性,确保超精密 半导体元件的稳定生产。
Progressive die-set for lead frame
Applicable for superfine stamping, supporting stable manufacturing of ultra precision semiconductor parts, with decreased defect rate and quality variation.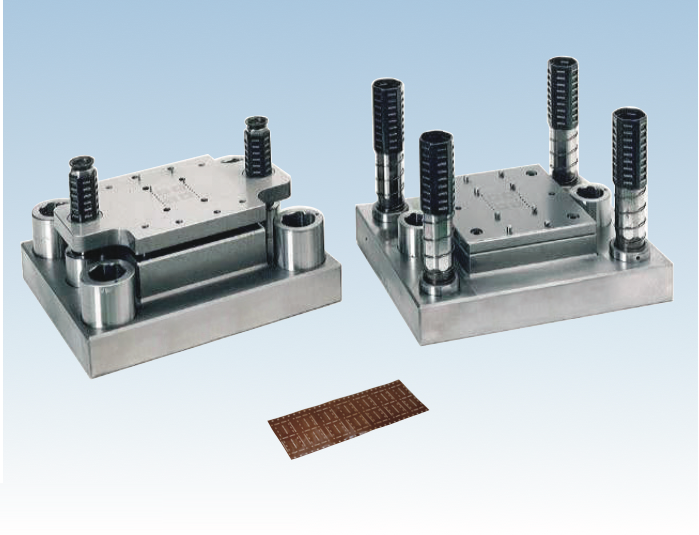 TAB载带冲孔模具
使用孔径φ0.3的上模,一次冲压"674个孔"的模具。可减少微细上模的损坏,延长上模寿命。
Die set for TAB tape punching
A die stamping 674 holes with a punch of its hole diameter 0.3mm at once. Decreased small diameter punch damage and extended punch life.
带头部型脱料板用导柱
Stripper guide with a head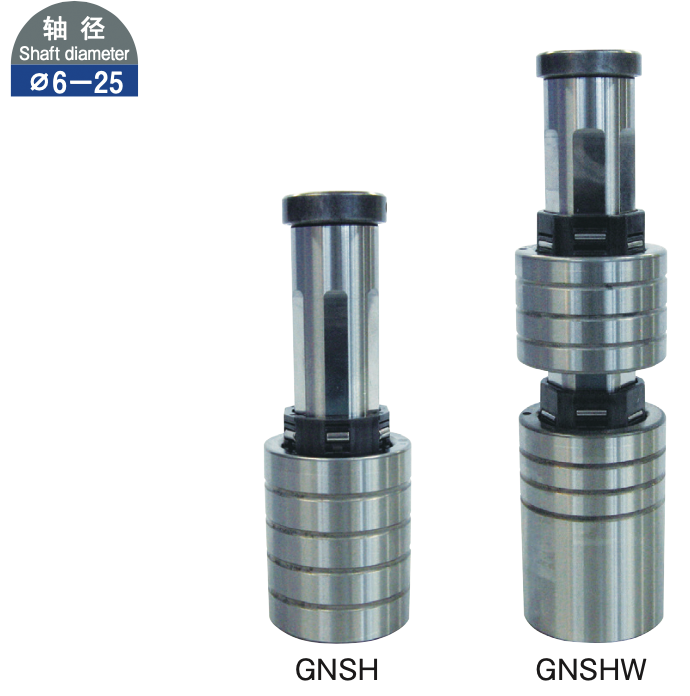 连接器冲孔、弯曲模具
可适应高达2000spm的冲压速度,并可延长导柱寿命。
Connector punching/bending die-set
Supports the severe press speed of 2000 spm and enables to extend guide life.
精密模架 Precision die-set
采用精密滚针导柱的超精密模架
Ultra precision die-set with Million guide equipped inside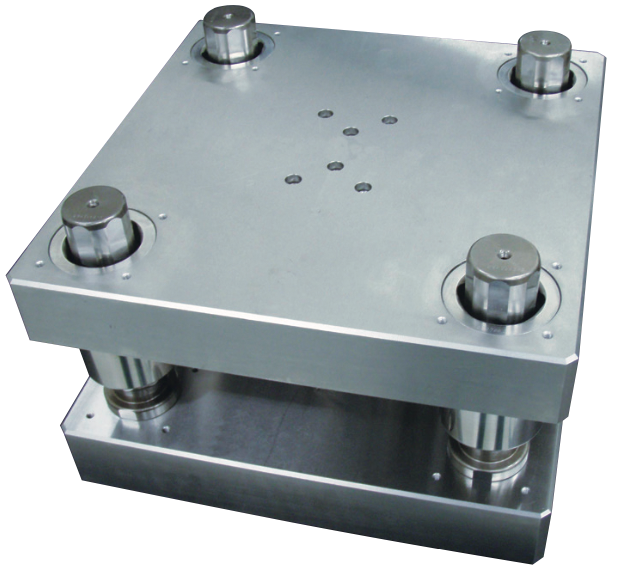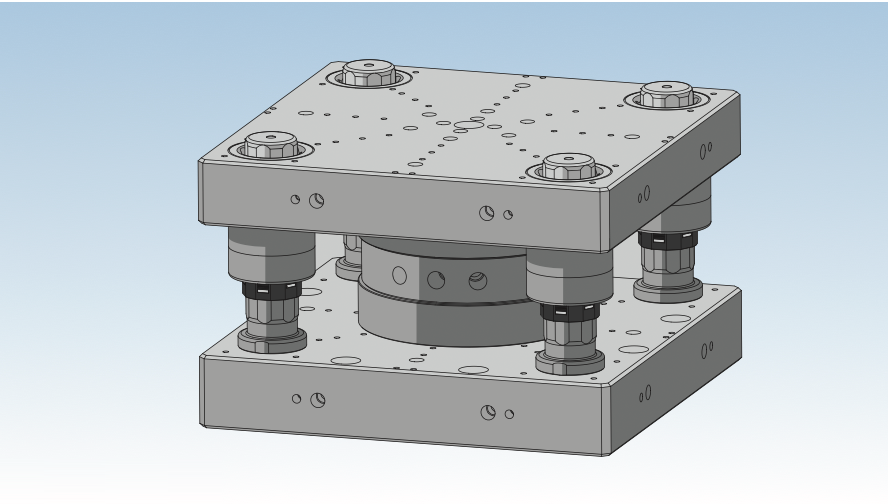 纳米压印模具
使用高精度、高刚性导柱和精密加工零件。利用独创的装配技术,发挥 100%的能力。可保持亚微米级的下死点重复精度,实现高精度批量生产。
Nanoimprint mold
Employs high precision, rigidity guide and precision parts. Our original assembly expertise demonstrates their performance, and maintains the sub-micron bottom center repeatablity, and results in high quality mass production.
维护保养用品 Maintenance product
滚针导柱专用的润滑剂
Lubricant for Million guide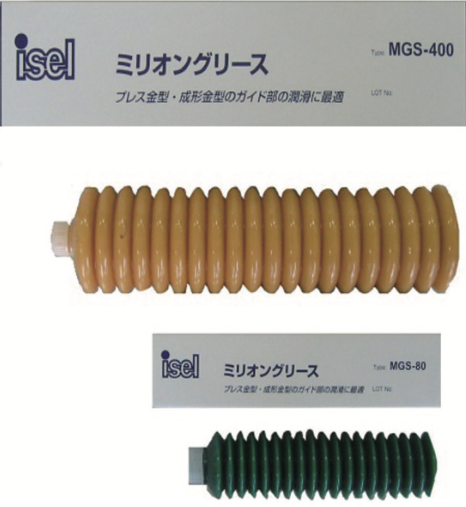 滚针导柱用润滑脂
润滑性、极压性、防锈效果优异,滚针导柱专用的脲基润滑脂。
Million Grease
Urea-based grease for the Million guide, is good at lubricating, extreme- pressure, and antirust effect.

滚针导柱用润滑油
润滑性、防锈效果优异,不易滴流的滚针导柱专用氟树脂混合润滑油。
Million Oil
Good at lubricating and antirust, combined with fluorine resin for Million guide does not easily sag.